HOW TO WRITE SYSTEMATIC LITERATURE REVIEW
The process of research is quite cumbersome but even more delicate is the presentation of your findings. More often than not, researchers are forced to do some further research on how to present their findings. Given that there are many channels of research, one of the most pursued avenues is of literature review. This is done by keenly putting a singular or a group of research findings under the scope and weighing its accuracy in relation to your hypothesis. This avenue has been pursued mostly to tell of the progressive steps that have been taken in certain fields. Now that I have gotten your attention, lets jump right into it and break this down.
Hypothesis
A hypothesis basically refers to having the end in mind even before starting your research. A hypothesis is a statement that poses the question that you will be seeking to answer. In formulating this question, you will be looking to be not only relevant but also lead your writers to the end goal.
Despite having a leading question, you also need to have a guiding statement which is what we will call the thesis. The thesis is a summary of the hypothesis and it is a statement that states your stand through the literature review. This means that you should have it in mind at all times and often give reference to it so as not to lose relevance and miss the aim of the paper. It is also important to quote the preferred method of research and what you will use to sieve and grade your information.
Research
From the lay-man understanding of literature review, this is basically the reviewing of already published literature as a source of information. With this in mind, you will have to first research for relevant research articles, books and literary material. Once you are equipped with this material it's now time for the treasure hunt. It is quite imperative that you keep an open mind while researching as this will avoid bias altogether. The data you are looking for will be quite vast and will be categorized by both an alignment of ideas to your thesis as well as those that are of a variant opinion.
Data Analysis
After going through a variety of sources in search of information that answers your hypothesis you then have to filter and restrain yourself to sources that you feel will be quite consequential in your paper. This will be dependent on the strategy you had decided on to help you sieve and grade the information. Pick preferred literature that you will hereby put under the scope for scrutiny. This officially now brings us to the literature review. The research part of this project is as vital as the presentation and submission as well, after all, we wouldn't want to present half-hearted done work.
Away from the research now, we have to represent the data in a more reasonable, meaningful and most importantly acceptable way that is up to standard. According to the international standards of writing, the APA format[style] of writing has come highly recommended on a global scale. The APA style is an all-round format that takes consideration of all principles of writing and most certainly ensures that you do not miss out any details.
Format of Systematic Literature Review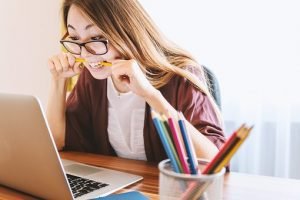 This is the American Psychological Association that has come in as the go-to format when it comes to psychological and social science-related projects. It has over time proved its worth as it covers all the necessary scope allowing no room for any omission. So how is the layout in APA format?
Title
Every work of literature has to have a title, after all, even you have a name. The title has to be in line with whatever it is that you will be talking about in your paper. However, there are a couple of reservations when it comes to creating this heading.
The title should be in capital letters all through.
The font used in the title should be the same font that you use all through your writing
The title should not be italics nor should it be underlined.
Finally, it is imperative that you limit your title to as few words as possible that pass the general feel of your writing. Avoid using unnecessary words and phrases in your title. However, it should be relevant. On the same note, refrain yourself from using abbreviations in the title.
Contrary to the titles in other forms of writing such as a report, this will require to be on its own page and with it, it is accompanied by a couple of details such as who are authors, institution affiliation ( for professional papers) but in the case of an academic paper you can add the lecturer's name, unit name and due date.
Running headers
Given that this might be quite lengthy, it is important that you add page headers and with them comes page numbering as well. This is a feature that is easily accessible in writing applications. The page header is simply a replication of the title phrase at the very top of the page.
Abstract
An abstract is a summary of the literature(s) that you'll be reviewing. This allows the reader to familiarize themselves as well as brace themselves for the review. Having a good abstract is of utmost importance as it tells the reader if it is worth reading and sets their attitude towards your review.
Body
Enough of teasing your readers with summaries and titles, you now give them the real deal which is covered in the body. Now when generating the body you will need to start with a reminder of the concept you will be bringing on the table which will be contained in the thesis statement.
Now you have an open ground to work from as you can take either side depending on your point of view or findings you got you can either support or go against the findings. How do you do this? What do you follow?
Chronology
Take a journey from the point that your research started and to there your findings took you. This will tell you on the changes that have taken place and as you join the dots along the way you will be able to tell where your hypothesis fits in.
Methodology 
For each of the works of literature that you put under the scope, they all used a certain method to arrive at their findings. So how does the method of choice affect the findings? What methodological preferences are available? And how different are the results from different approaches? All these are vital questions that both you and your reader will be looking to unravel by the end of the review.
Ideology.
All these researchers that you have in mind are quite unique in their ideology depending on different factors that surrounded their research. Subsequently, you too have your won ideology which is why you are undertaking the review. While introducing the different theories presented you will find their similarities and differences as well as their contributions to the field
Result
Result based research is ideal in these situations. It is from presented results that projects are evaluated and depending on the idea in mind and the method used then we are in a position to state the results.
Headings and subheadings
The ability to deliver a point across is also dependent on the presentation. This would suggest that so as to keep the reader in the flow and to ensure maximum simplification it is good that you use headings and subheadings when delivering points. This can subsequently be used in summarizing your work and easy referencing through scheming. They can be numbered or even underlined to help them stand out.
The body of your review should not be as long as most people are led to believe. Only relevant points are to be included.
Tone
As we had stated earlier systematic literature review can either be used in academic settings or professional settings. In both of these settings, it is advised that you try as much as you can to keep the tone on an official zone. This passes across the notion of professionalism and indicated that you know clearly what you are doing. On the same note, you should use active voice.
Given that the basis of your paper is primarily on other peoples reports on their research then
Punctuation and numerical
A literature review is not limited to only qualitative review which means that quantity as a measure of value will be used and this can only be represented in numerical form. However, when representing this information, it is important that you remember that only numbers above 10 are numerically written while numbers below ten are spelt out.
The basic rules of punctuation are also followed to the letter with a couple of tweaks here and there. These changes, however, are still new into the new 7th edition APA format guidebook. A good example of this is that when refereeing to a period in plural from you should not add an apostrophe. in the 1990s, not in the 1990s!. these are just a couple of things that require you to be conscious about to maintain the high-level standards that we have set ourselves to since the start.
Conclusion and summary
The end of your paper is one of the most important parts as it is the ultimate climax as far as the body is concerned. In this section, you are supposed to conclude your paper and prove your thesis. This is what basically tells you if you have maintained relevance and if all that you have compiled is relevant yo your thesis statement.
You need to revisit both the thesis and hypothesis and now give your verdict on whether or not you are for or against it. All your argument is now focused on this moment and you can lead your reader to halt. A strong conclusion is always highly recommended.
Referencing and citations
By now it is quite clear that literature review is basically taking another author's, or a group of authors literature and reviewing it on the scale of a given hypothesis. This means that through your paper you will need to acknowledge your sources and at the end, you will be required to give credit where it is due. Under no circumstances should you avoid this section. This will be the only thing that protects you from plagiarism and spinning. So how do your citations and your referencing of sources?
Well, despite the fact that these word at times used interchangeably they hold a different meaning.
Citation
A citation may come randomly within the paper and it most commonly is seen whenever there is a quotation of phrase from one of your sources. When quoting this you cite only the name of the publisher and the date that the document was published. This adds clarity to your work and does not mislead the reader to work on an assumption on whether the phrases are yours or they are borrowed. Some of the sources you might use are well known on a global scale and this is hard to not acknowledge them after all you don't want to run the risk of plagiarism
Referencing
When it comes to referencing you have to include the name of the document, name of the publisher, title of the section and even the URL used in research. In this, there is no leaving anything for imagination. When referencing, you will have to take a different approach to book texts, newspapers and even in journals. They are all individual pieces. This part of the literature review is always the lats and this sets the climax of your paper
Well! Literature reviews have just gotten easier with all this info at your disposal. Remember that if you are to follow APA style of formatting then you should take heed of details and this might be the thing that talks you from a 7 to a 10. As I always say, you should get the best out of everything and this should not be an exception.
Also you can talk to our literature review writing services for assistance and guidance on how to write systematic review.