15 Best Microeconomics Books To Read in 2022
Economics is a social science that studies how products and services are produced, distributed, and consumed. The economic facets of human behavior, such as personal preferences and price expectations, are also a focus of economics. Economics books are written by economists and seek to simplify the complex subject of economics. Topics like macroeconomics and microeconomics are challenging for the typical reader.
Because there are so many various kinds of economics books, there is no universal definition of what an economics book is. This article will concentrate on some of the best microeconomics books to read in 2022. You will discover something on this list that interests you and satisfies your demands, regardless of your degree of skill.  The review is based on phenomenological experience among our economics research paper writers. At expertwritinghelp.com we use these 15 best microeconomics books to deliver your request of write my economics paper online
So, What Exactly Is Microeconomics
Microeconomics is a subfield of economics that examines how people behave. Microeconomics enables us to comprehend how our choices impact the supply and demand for goods and services. It assists us in figuring out the value of products at various points in time. Choosing resources for consumption and production is another aspect.
Most people mistakenly distinguish between macroeconomics and microeconomics. Microeconomics examines how individuals and firms behave, whereas macroeconomics deals with the aggregate economy. Both are distinct subjects that call for independent research.
Here are the top 15 microeconomics books that can help you quickly become an expert in the field. I urge you to read it, absorb its lessons, and use it in your personal and professional life.
Top 15 Best Microeconomics Books To Read In 2022
1. Principles of Microeconomics by ( N. Gregory Mankiw)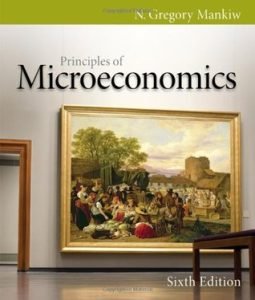 It is the most often utilized textbook in the class. The entire set of fundamental microeconomic rules can be found in Principles of Microeconomics. Even school-level kids will find the chapters brief and relatively simple to understand.
Summary
This book's language is relatively simple, so you won't have to struggle to understand any given chapter. This book will benefit you if you want to master the principles of microeconomics because it doesn't contain any information that a layperson won't grasp! Select this microeconomics book, underline the passages that speak to you the most, and then note any further thoughts you may have.
Key features of this book
Apparent and straightforward writing
This book is available on Audible, Amazon, Flipkart, etc.
It provides numerous examples to aid your grasp of the subject's fundamentals.
It provides a concise and clear explanation of all the fundamental microeconomics principles.
2. Microeconomics: Principles, Problems, & Policies (McGraw-Hill Series in Economics) by Campbell McConnell, Stanley Brue, and Sean Flynn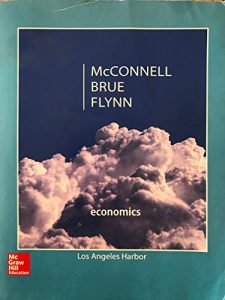 This is the most okay book to choose if you ever have to read something for class. For a very long time, students have found it to be ideal.
Summary
There are 20 chapters in this book, one of which is titled "behavioral economics." The role of behavior in microeconomics has not been covered in many works. However, this one encourages students to approach microeconomics from an entirely new perspective. This book is helpful for individuals who want to teach and need a reliable instructional plan, in addition to pupils currently enrolled in school. The students may quickly master the digital material, and they can use it to augment their studies for exams and other purposes. You can also read this textbook to save time and understand microeconomics topics as a business owner.
Key Features
The deal textbook for entrepreneurs.
This book is available on Amazon, Audible, etc.
Its information can also be applied in the classroom.
3. Modern Principles: Microeconomics by Tyler Cowen and Alex Tabarro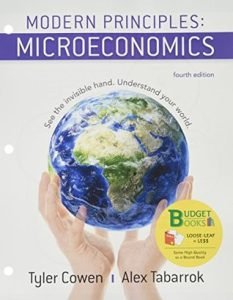 How can people learn more effectively? It has been discovered that they learn best when doing so visually. Even a dull subject like microeconomics was made to stand out as one of the most engaging topics in this book thanks to the authors' use of images.
Summary
This book is pretty decent for novices and those unfamiliar with the basics of microeconomics. This is the "go-to book" for anyone taking their first microeconomics course. This book's easy-to-read chapters and accompanying images make it unnecessary for you to flip back and forth between topics to understand one. You can follow along and pick up the ideas, perceptions, and foundations. This book will also give you a lot of instances from real life that you can relate to and better understand.
Key Features
There are five sections in this book.
You will learn a lot about microeconomics if you read all five sections of this book.
Audible, Flipkart, etc., all sell this book.
4. Microeconomic Theory by Andreu Mas-Colell, Michael D. Whinston, and Jerry R. Green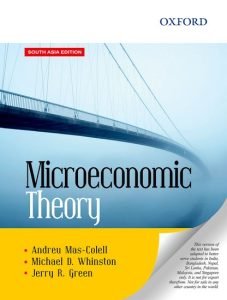 If you are new to microeconomics, you shouldn't start with this book because Microeconomic Theory is the fundamental textbook on the subject.
Summary
The University of Michigan uses this book to teach microeconomic theory to Ph.D. candidates for a whole academic year. This book will teach you concepts and fundamentals rather than intuitions, allowing you to publish your works in esteemed journals in the future. However, do not attempt to read this book on your own. You still have the option if you're an economist or have your Ph.D.
Key Elements
It has five sections: social choice theory and mechanism design, game theory, partial equilibrium analysis, general equilibrium analysis, and individual decision-making.
You will learn a lot about microeconomics if you read all five sections.
It is available from Audible, Flipkart, etc.
5. Microeconomics made simple by Austin Frakt and Mike Piper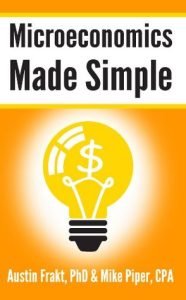 You occasionally need a helpful reference to review what you have already studied when recapitulating the microeconomics ideas. That is the sole purpose of this top microeconomics book.
Summary
Students, teachers, instructors, and business owners can use this book to refresh their expertise. People busy in their professional or personal lives and have little to no time to study microeconomics would find it helpful. Professionals need something to read through quickly since their professions need it (and they have no prior knowledge of economics).
Key Elements
You won't ever experience information overload. Let's leave that to the books. This book is recommended if you seek a practical, precise, and reliable resource for condensed knowledge of microeconomics.
It is brief, engaging, and simple to comprehend. If you don't have much time to read, finishing this book is almost like completing an exam.
6. Advanced Microeconomics Theory  by Felix Muñoz–Garcia
All of the complex microeconomics concepts are fully introduced in this book.
Summary
This book is the best for master's and Ph.D. level economics, public policy, and finance students. It offers several illustrations of how we put various theories into reality. Additionally, it provides several mathematical presumptions that explain different economic theoretical frameworks.
Main Features
It does not go into the fundamentals of microeconomics but concentrates on more technical subjects.
It explains the connection between microeconomics and mathematics and how problem-solving is aided by it.
It covers many subjects, including monopoly, demand theory, game theory, and preference relations.
This book is available on eBay, Amazon, etc.
7. Microeconomics  by Paul Krugman and Robin wells
This book would be the ultimate textbook you could ever require, regardless of what you do—study in an undergraduate program, operate a business, or perhaps wish to understand every imaginable topic one can know in microeconomics.
Summary
Students who have read this microeconomics textbook have stated that it made it possible for them to pass their microeconomics classes with A's without putting in much work. This book is simple to follow and helps readers grasp the essentials well, according to readers who don't have a lot of business knowledge or have never taken a business class.
Main Features
The language used is quite simple and easy to understand.
It provides numerous examples to aid your grasp of the subject's fundamentals.
It provides a brief and clear explanation of all the basic principles of microeconomics.
Audible, Flipkart, and other online retailers all sell this book.
Also Read
https://expertwritinghelp.com/blog/2018/10/19/how-to-write-economics-research-paper/
8. Microeconomics for today by Irvin B. Tucker
Many microeconomics textbooks make big claims but offer the complete opposite. However, there is no disconnect between what this book promised and what it delivered. Instead, if we contrast it with modern microeconomics textbooks, this is what all incoming economics students ought to read.
Summary
Although written simply, this book will help you expand your vocabulary, concepts, perspectives, and comprehension. It is ideally suited for college students who wish to succeed academically while grasping the foundations. As a result, you browse the book quickly. The vocabulary words used in each chapter are listed on the side of the chapter. Additionally, there will be a summary and a practice test after each chapter so that you can review the entire idea.
Key Takeaways
A fantastic textbook for those starting a startup or working in the business.
To make studying considerably simpler, it offers sample exams after each chapter.
The book includes tools, website links, PowerPoint slides for educators, and CDs.
You can buy this book from Amazon or any other retail shop.
9. Microeconomics: Theory and Applications with Calculus by Jeffrey M. Perloff
This microeconomics textbook is self-explanatory. Read this book if you wish to refer to the fundamentals of microeconomics with real-life examples.
Summary
Those wishing to learn microeconomics from scratch should not read this book. This book is not for new readers. Instead, you can pick up this book and deepen your comprehension once you grasp the principles of microeconomics. You must also be familiar with derivative and integral calculus concepts to thoroughly understand this book's information. Therefore, before starting this book, read several introductory math and microeconomics texts. This book's presentation is its one flaw, but you may not find it to be one. The book is written more like a mathematics book than a microeconomics textbook.
Points to consider
This book should be on your "to-read" list if you enjoy witty examples and inspiring phrases.
If we take into account the value the book offers, it is reasonably affordable. The book has over 800 pages and is priced between $20 and $25.
10. CoreMicroeconomics by ( Eric Chiang)
Because it is thick and chock-full of microeconomic concepts, this best-selling book on the subject is difficult for those unfamiliar with it.
Summary
The author introduces numerous fresh ideas in microeconomic theory. That indicates that this book contains more than just the fundamentals of microeconomics; it also contains information on how to teach students about the newest developments and innovative notions in the field. Many students who have used this book in class have reported that it was handy during the semester and helped them pass the course. This book can be utilized by teachers who teach microeconomics to their students in addition to students.
Key Features
The book contains all of the author's teaching experience and broad understanding of teaching economics courses.
There are more than 500 pages, and every detail is thoroughly explained.
Audible, Flipkart, etc., all sell this book.
11. Freakonomics. A rogue economist explores the hidden side of everything by (Steve Levitt and Stephen J. Dubner)
Without mentioning the title Freakonomics, the list of microeconomics books is lacking. One of the best textbooks on microeconomics that you will find is this one.
Summary
The book offers a selection of articles and theories to assist you in comprehending economics' most fundamental concepts. It demonstrates how we may apply economics in our daily lives by using a variety of applications. It's a fascinating book that examines many issues from an economist's perspective. It has chapters demonstrating the connection between economics and peoples' everyday lives.
Key Takeaways
The language used to write the book is informal and straightforward to understand.
It also demonstrates how economic policies impact our day-to-day activities.
Case studies are included at the end of each chapter.
12. Principles of Microeconomics by Karl E. Case, Ray C. Fair, and Sharon E. Oster
It is the ideal book for anyone new to microeconomics who wants to get the basics down without any filler.
Summary
The author did not write this book to instruct or teach. It is intended for people who are currently unfamiliar with the topic and are not proficient in advanced mathematics. Although it is designed for beginners, it does not imply that it is meaningless or illogical. No, this book is jam-packed with real-world examples and current events to help new readers connect the concepts to everyday life. If you want to understand the principles of microeconomics from scratch without paying little attention to the mathematical ramifications, pick up this book.
Key Features
Each idea offered in this book has undergone extensive research. Additionally, it includes an exercise that will help readers comprehend the principles of microeconomics.
It includes MyEconLab, which you should get in addition to the book since MyEconLab will provide you with an organized environment, enhance your comprehension of each idea, and allow you to practice more effectively.
13. A Short Course in Intermediate Microeconomics with Calculus by (Roberto Serrano, Allan M. Feldman)
This challenging mathematical textbook has been designed for intermediate students who have taken calculus and an introductory microeconomics course.
Summary
While introducing more in-depth coverage of game theory, experimental economics, and behavioral economics, the book maintains its strengths as simply written, well-organized, and calculus-integrated. It offers a brief yet thorough treatment of the fundamental microeconomics concepts, including theories of the consumer and the firm, market structure, partial and general equilibrium, and market failures brought on by public goods, externalities, and asymmetric information. It stays more focused and manageable than comparable textbooks.
Main Features
In addition to over seventy new mathematics exercises and improved versions of the previous edition, this book's second edition offers good solved problems in all of the introductory chapters.
The authors use the book's full color with clear and valuable graphs and graphics.
14. Math Practice for Principles of Microeconomics by Carl Sutton Mapleton
The more challenging practice problems frequently found in essential microeconomics are collected in this book to assist students and educators.
Summary
The book can be assigned by teachers to students as needed, and students can utilize it for further practice. The workbook format is used to present the material. Students can check answers in the book's back, exhibit their work, and finish the exercises. To aid students receiving various types of education, the equations and problems are also presented in multiple ways.
Key Takeaways
In this book, there are only collections of math-related problems; there are no definition or concept questions.
The third edition has been rewritten and includes additional net present value, compound interest, and international trade problem sets.
15. Principles of Microeconomics 2e by OpenStax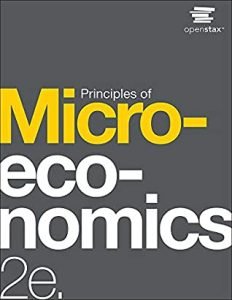 This OpenStax printed book is the least expensive one on the market.
Summary
The scope and organization of most beginning microeconomics courses are covered in Principles of Microeconomics, 2e. Many recent instances are used throughout the system, and they are all treated fairly from a political standpoint. As a result, economics theory and application are approached in a balanced manner. The second version has undergone extensive revisions to improve clarity, include feedback from many reviewers and adopters, and update data and current event impacts.
Main Features
To assist instructors in switching to the second edition, the preface and transition guide outline changes to Principles of Microeconomics 2e.
On the OpenStax website, you can get a free copy of this textbook.
In Conclusion
All the best microeconomics books listed above are helpful and worthwhile to read. The advanced books listed above can be chosen once you have a general understanding of the fundamentals. After reading them all, choose the one that most appeals to you.