Ultimate Guide To Nursing Theories
Over time, tons of theories have been and are being developed. And the medical field has not been left behind. Understanding theories is a major part of the advancement of the discipline. Taking it down the foundation of theories, a theory is a supposition or a system of ideas intended to explain something, especially one based on general principles independent of the thing to be explained.
Behind every theory, there has to be a theorist and in most cases, when stating the theory, their names are attached, say, Einstein's theory of relativity, which is one of the most common theories out there. Nursing theories are no different and have theorists who present a set of ideas intended to explain facts or events that help guide and define nursing care and provide a proper foundation for clinical decision-making.
Metaparadigm of Nursing: Explaining Major Concepts of Nursing Theories
The concept of nursing is an all-around concept that works systematically. To make sense of nursing theories you need to first understand the pillars or rather the main concepts tied to nursing.
Person
This very basic component focuses on the 'patient' or rather the receiver of the care and this explores all other people in their life. To better understand the 'person', a basic understanding of their social, spiritual and healthcare needs is needed. It is argued that a person is better endowed to manage their health when they have proper personal connections.
Health
The health bit to this focuses on the patients well being, In this case, their well-being is not only tied to their physical and anatomy but also their spiritual, emotional, intellectual and social well-being. All these play an important role in the health of the person.
Environment
It has been said, we are as good as what we know which is very much influenced by what surrounds us. This component seeks to express the relationship between a person's health and how their surrounding can influence their health. The question here is, how can a person's environment influence their health?
Nursing
Well, this would all be incomplete without their caregiver, who is the nurse. This concept sees to express the relationship between the patient and the caregiver. The role of the nurse in ensuring the patient achieves the best possible health outcome. It is arguably the key component to all this.
Over years of research, numerous theories have been established and while some are still debatable most of them have been adopted and inculcated in learning. However, despite these theories being different, they all share the metaparadigm of nursing.
Levels of Nursing Theories.
Generally, nursing theories are categorized into three levels
These theories are considered to be the most complex as well as the broadest category. It is however applicable in a variety of situations and hence widely accepted.
Middle-range nursing theories
Middle-range nursing theories are quite moderate and are a little bit more specific when compared to grand nursing theories. These theories are less complex and thanks to their nature are testable and hence verifiable.
Practice level nursing theories
These are the least complex group of theories and have a very narrow scope of focus. Their nature allows them to be used only in specific cases and on specific types of patients. On the upside, since they are derived from the other two levels, they are easily complimented.
Here are a couple of nursing theories that you will encounter in the course of your academic pursuit in nursing. They are quite vast and there is so much more information on each of them individually, however, I will just highlight the basics to them.
Nursing Theories and Theorists
Environmental theory (Florence Nightingale)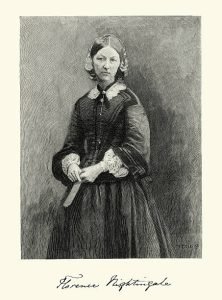 This is one of the most common nursing theories you will find. Florence Nightingale served as a nurse in the Crimean war and during her time there she made several observations and discovered that due to unsanitary conditions, most soldiers ended up dying from lack of; fresh air, pure water, effective drainage, sunlight and cleanliness rather than they did from wounds.
This formed the basis of her theory and was a game changer which ended up saving many lives back in the day. This theory tends to prioritize the environmental factors, to get the patient back to proper health conditions.
Despite this theory having been fronted in the 19th century its relevance in modern-day society still stands.
Virginia Henderson's nursing need theory
"The nurse does for others what they would do for themselves if they had the strength, the will, and the knowledge. But I go on to say that the nurse makes the patient independent of him or her as soon as possible." ~Virginia Henderson
This theory is quite modern and it seeks to promote the importance of increasing the patient's independence to speed up recovery. Henderson's theory is both vast and effective and she emphasized the psychological, spiritual, social and physiological components of care.
Patricia Benner's novice to expert theory
With years of practice comes experience and this is variable since the level of exposure also varies. However, Patricia Benner developed a theory which was pretty much straight forward and it ranked the different levels of nursing into five categories i.e
Novice
Advanced Beginner
Competent
Proficient
Expert: This theory not only takes into consideration the level of experience but also the level of education.
Maternal role of attainment theory (Ramona Mercer): Ramona was a nurse who specialized in maternity and newborn care. Through her various interactions and experience, she realized the importance of bonding and parent-child attachment in a child's life. She, therefore, created a theory that promotes maternal identity and bonding, however, this theory is not ideal for adoptions.
Ramona gave these four phases in her theory
Anticipatory phase- This starts during pregnancy as the mother-to-be makes certain changes in readiness for the baby
Formal phase- This involves, learning how to take proper care of the baby in various situations.
Informal phase- This is all about adaptation to the motherhood lifestyle and priorities
Personal phase- Individually, the maternal role has to be understood and accepted.
King's theory of goal attainment
Taking this back to patient care plans, we cannot emphasize the importance of having a plan toward an attainable goal. This is exactly what this theory is about. It emphasizes on the importance of a goal-oriented recovery, that sees the nurse and patient setting goals that they both work towards.
This approach has proven to be quite effective as it incorporates the effort of the patient as well and this sets their focus on recovery.
Nursing process theory
Unitary human beings theory
Martha rogers is the name behind this theory and she depicted it as being a combination of nursing as an art and a science. This theory was based on couple of assumptions revolving around a 'person'
Self-care deficit theory ( Dorothea Orem)
This theory seeks to provide a guideline on how nurses can help their patients can practice self-care and hereby maintain their wellbeing.
Systems theory
Adaptation theory
Comfort theory
Human becoming theory
Human-to-human relationship model
Interpersonal theory
Transcultural nursing
Importance of Nursing Theories
While this may come as a very obvious question, it is a question worth asking when dealing with nursing theories.
Gives basis for future research
When basing research, scholars will need to study already published work so as to avoid replication as well as know what they agree with and what to dispute. Some of these theories have stood the test of time and are still relevant.
As you know, DNP projects aim at translating nursing research into practice. Nursing theories play a critical role in shaping the parameters of nursing care delivery. Therefore, our DNP capstone project writers utilize nursing theories to translate evidence into nursing practice to align with expected outcome.
Provides a foundation for nursing practice
Theories generally provide a proper basis for learning purposes. Every discipline is based on certain ideologies that have been tested and nursing medicine is no different.
It helps nurses understand their role in healthcare
The role of nurses in healthcare is both vital and complex. They have been entrusted with a very important task that ultimately helps preserve human life and this responsibility needs clarity for the proper execution of tasks.
Allows the nursing profession to maintain relevance
Nursing theories act as a guide and every so often they are revisited just to make sure they are dependable. With new information and theories in play, relevance is maintained since they help solve everyday problems. Their adaptability is a key strength.
Promotes education, research and practice
Right from college to the hospital, these theories remain relevant, after all, we practice what we learn. However, during practice, the hands-on experience sheds a whole different light on what you know.
Nursing theories are accepted universally and are vital to the nursing profession. As you consider having a career in nursing, remember you will learn more than just the human anatomy and procedures. The goal here is to help the patients achieve the best health they can in the most effective and efficient way. On top of that, it will be an added advantage if the patient now knows how to take better care of themselves to avoid frequent visits to the hospital.
Since nursing theories shape nursing concepts and play a critical role in patient care delivery. Nursing student will often be required to complete nursing theories assignments. We are the best nursing paper writing service to help with writing nursing assignments on any of the nursing theories